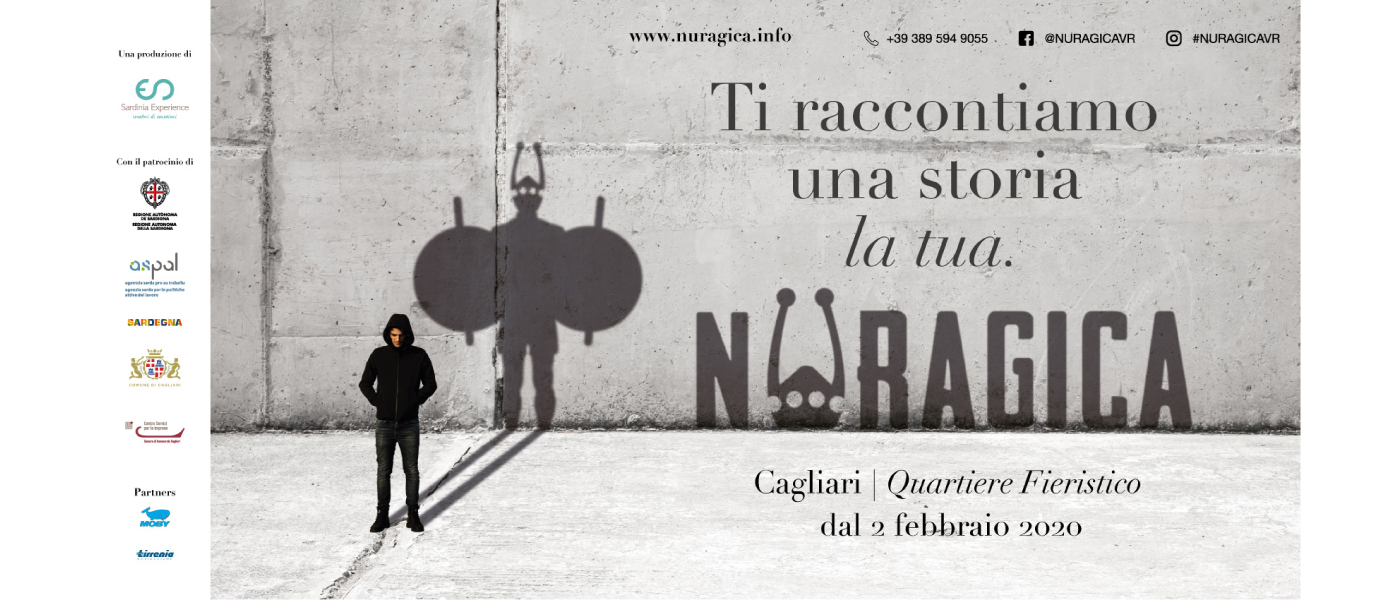 web_1200x500_nuragica_home3
THE MOST SURPRISING JOURNEY IN TIME THROUGH RECONSTRUCTIONS AND VIRTUAL REALITY
At NURAGICA you may immerse yourself into Sardinian life 3500 years ago. The touring exhibition explains the nuragic culture along a narrative storytelling path, scientifically sound with real scale reconstructions and exciting Virtual Reality. NURAGICA offers a unique and
unforgettable experience!
Become a time traveller and discover ancient Sardinia!
NURAGICA breathes new life in the Nuragic main characters!
The exhibition path built around the events of the population who gave birth to the most important civilization of the Western Mediterranean Sea during the bronze age in Sardinia, conducts the visitor in a surprising journey through time with a high educational and touching value.
The original storytelling, performed by professional guides and archaeologists providing scientific information, the fantastic scenarios, the impressive 1:1 scale recostructions, the detailed reproductions of the bronze tiny statues (Bronzetti) increased in size, the Nuragic costumes created by expert artisans and the Immersive Virtual Reality enable NURAGICA to offer its visitors a full immersion in a part of the world throwing back 3500 years!
Virtual Reality
Nuragica is a journey beyond time and space
An interactive and extremely involving experience which will make you feel as a main character within the wonderful scenarios of the Nuragic era.
The full immersion will give you the impression of walking inside a prehistorical village!
Nuragica on TOUR: from the 2nd of February in Cagliari!
After the great success of the Olbia, Sassari, Barumini, Nuoro and Arzachena editions, Nuragica will be back in Cagliari - with a completely new and immersive experience.
I° Olbia – Archaeological Museum (June 24 th – November 19th 2017)

II° Sassari – Former Carmelo Convent (January 5th – April 29th 2018)
III° Barumini – Nearby the Nuragic Village (June 15th 2018 – January 16th 2019)
IV° Nuoro – Multifunctional Community Center (February 16th – June 2nd 2019)
PETITION TO TEACH THE HISTORY OF THE NURAGIC CIVILISATION IN THE ITALIAN SCHOOL

The Nuragic Age, lasting since 1700 to 700 b.C. constitutes the first big Italian history, way before the following Etruscan and Roman civilisations.
We believe we should grant this Sardinian history page a proper in-depth analysis in the Italian school programs.